When you first start out in the pet business it can be a daunting task to find new clients.
You receive sales calls from the local newspaper, and one dodgy SEO company after the other promise to boost your website.
And worst of all – you have no cash to spare for marketing!
The good news is that the best local pet business marketing tips are mostly free or at least low cost.
1. Make sure Pet Parents can find your Pet biz online
One of the first things people do when looking for a local pet related service such as a dog groomer, dog walker or trainer is to ask Google. If your business doesn't appear on the first page of the search results, then chances are your potential customers will never find you. Here are some quick tips for making your pet business visible online.
Google My Business connects you directly with your customers and helps them find you whether they are searching for your services on Google maps, on Search or Google +. Signing up is completely free and you can add photos, driving directions, parking instructions, opening hours and more to your profile. By downloading their app, you can also manage customer reviews and reply to any customer queries as the owner of the business.
Double check that your Facebook Page is set up as a Local Business. Local Business pages on Facebook can let their customers 'check in', leave reviews and list their opening hours which is great.
To change your Page's category to Local Business:
Click Settings at the top of your Page
Click Page Info in the left column
Click Category
Select Local Businesses from the first dropdown menu, then select a more specific category (ex: Dog Walker) from the second dropdown menu
Click Save Changes
Your pet business website is your window to the world and as we all know, first impressions last so make sure that your own website looks professional and inviting. Check out my other article 5 Key Elements of an Effective Pet Business Website for more tips.
2 Your Local Pet Biz Network
One of the most effective ways to generate new business is through referrals from your own professional pet business network. When I worked in my friend's doggie boutique and spa, I was often asked to recommend good dog walkers, veterinarians and trainers and because people liked the service they had just received  – they assumed the names I recommended would deliver the same levels of quality.
Why would other local businesses be interested in helping you promote your services? Because you will return the favour, that's why! Get to know the local dog walkers, veterinarians and groomers and start thinking about how you can make the most out of your network. Start by thinking about how you can make yourself front of mind when they are asked for recommendations – here are a couple of ideas to get you started.
Go to your local vets, introduce yourself and bring a bag of home made choc chip cookies. Ask them if they'd consider handing out your business cards or if they have a notice board where you could place a flyer.
If they agree to hand out your business cards, make sure you take some of theirs and return the favour.
Repeat the above with your local groomers and pet stores – trust me when I say cookies are the way to groomers and store staff's heart – especially towards the end of a long afternoon!
Could you do a joint offer with another pet business where you live? If you're a dog groomer, why not offer a joint offer with a pet photographer or perhaps a dog trainer? Both businesses will benefit from sharing the promotion with their customers.
If you are a dog trainer, then ask if you could set up a free workshop in your local pet store or grooming salon. Promote the event to your own customers and ask the store to do the same.
Bring lunch or a bag of sweets/lunch/cinema tickets every now and then to say thanks for the referrals.
Offer to groom or train the vet staff dogs for a discount or even free. Guess who's name they will mention next time one of their customers ask for a groomer?
3. Pet Biz Branding really matters
Make sure you have professional looking business cards, pull tab flyers and brochures printed – and place them in  community boards and bulletin boards. Don't forget to brand your company van and staff too! You can get great looking magnetic van signage, and printed t-shirts done with your logo.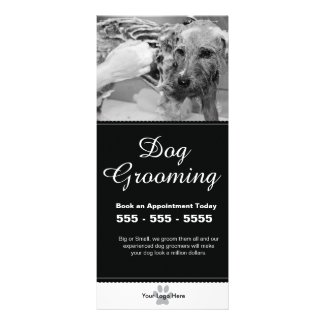 Dog Grooming Rack Card – Personalizable
by
PetMarketingToolkits
Design
rack cards
on zazzle
4. Make Word of Mouth Easier
Pet parents often go to other parents to ask about where they have their dogs groomed or who looks after them during the day. Your existing customers are obviously happy with your services and likely to recommend you to their friends.
Make it easier and more beneficial for them to recommend your business by printing business card sized referral cards with for example a $5 off discount for both the new client as well as the one who recommended you.
Dog Grooming Customer Referral Coupon Personalize Business Card
by
PetMarketingToolkits
More
Customer referral coupon Business Cards
5. Show off your skills
When you're out and about with your dogs – remember potential customers are always watching. I have long admired a dog walker/trainer in my area who has the most amazingly well behaved pack of dogs I've ever seen. She walks 6-8 dogs and they do exactly what she asks of them every step of the walk.
She also lines them up to take their photos for her social media pages, it looks absolutely incredible and lots of dog parents stop to ask her about her business card.
In a similar way, if you are a dog groomer – make sure your own dog is always impeccably groomed and when people ask about his hair cut you can simply tell them that you're a dog groomer and give them a business card.  Nothing like showing off your skills to get business!
6. Get involved with Local Pet Events
Volunteer and get involved in local pet related events and get your name out there. Donate gift vouchers to fund raisers, school raffles or perhaps donate your time to a local shelter.