In this final step I want you to go to your business website and locate where, exactly, you've placed your service areas, your address, and your phone number. I'll wait for you to come back!
Okay – where did you find your contact details? In the contact us page? Somewhere else?
Here's What You Need to Do to Help Google Find Your Website
Imagine a pet parent typing in "dog groomer San Francisco" into the Google search box. Google's job is then to go and find all relevant pages that match that description and present back the best picks to the pet parent. That's what Google does for a living – so they really, really want to get it right!
Google can only find your website if it has enough information to work with, meaning they use the words and information you write on your page to be able to find your website when someone runs a search. If Google is not quite sure about your website, then they won't show it in the search results (and the pet parents will never find out about your business).
To make it as easy as possible for Google and other search engines to find your website, we need to include your service areas or address on every page.
You can accomplish this by simply opening the editor of your website and add all the service areas you cover within the text of each page.
Or you could add the information in the header and footer of the page, meaning that it actually appears on every page without you having to type it in a hundred times.
Here's an example from a website I made: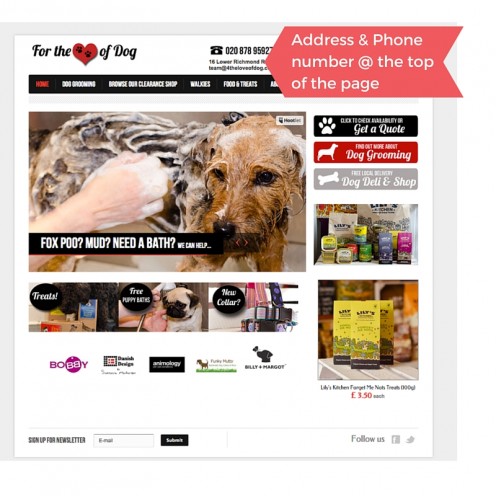 Make Sure They Know They Are in the Right Place
Once a pet parent has found your website, you only have three seconds to convince them that you're the right service for them. So, by placing your service areas AND your contact number in the header of your website, you're making it super easy for them to see that they're in the right place and they will continue to read about your services, or contact you straight away.
That's it! Follow these five steps for local search, and pretty soon you should start seeing new local customers in your pet business.
Need more help?
Do you want to build a good looking website for your pet business, but not sure how to get started? To help you set up your pet biz website, or to help you improve your existing site, I've written book just for you – helping you get over website overwhelm and stress once and for all and finally turning your website into your main source of new business. Check it out on Amazon now.