When I work with local pet business clients, one of the most common questions I get is "How do I get more local customers?"
My answer is always to make it easier getting found online, or in other words, by "local search." Now, you might be thinking, "I don't need to be on the internet, I get all my new clients from word of mouth."
Although there is some truth to that, word of mouth is only one part of the equation in this day and age. Let me explain.
How many pet parents do you think are looking for a pet care service like yours today, in your local area?
3? 10? 50? More?
The actual number doesn't really matter so much; it's more about how they go about searching for help that's interesting.
A recent study by LSA discovered that as many as 53% of pet parents looking for a local veterinarian use search engines such as Google to find help for their pets. The equivalent numbers for groomers is 60%, for pet supplies 67%, and pet shops an incredible 71%.
For argument's sake, imagine there are 100 people searching for your type of pet service today. That means between 53-71 of them used a search engine to find help for their pet online.
Will they be able to find your pet business online?
In other words: if you go to Google.com and type in the words My town + My Service (for example: 'San Francisco Dog Groomer'), can your pet business website be found at the top of Google's search results, or at least on the first page of search results?
If the answer is no, then you're missing out on 53-71% of potential new clients finding your pet business! That's a lot of lost revenue over time.
In this article, I will share the first out of five steps for getting your pet business listed as close to the top of the list as possible. The second step will be in my next blogpost so subscribe here if you don't want to miss out.
Step 1: Search For Your Own Business Online
Step into your potential new client's shoes for a moment.
What words would you use to look for your particular type of pet service?
Perhaps it's "Dog Walker in Your City," or "Pet Store in Your Town." Now open up your Internet browser and type in those words to see if your pet business can be easily found.
When you run a Google search for your own business, be aware that Google saves your browsing history. So they will likely show your business as listed higher for you, than for a complete stranger completing the exact same search.
There are ways to get around this problem that let you surf the internet without your browsing history though:
How did it go? Could you find your pet business?
Here's an example where I searched for "dog groomer in Alameda." As you can see, at the top of the search results are the "Google My Business" listings, followed by Yelp profiles, and then there's the first pet business website. For more popular areas, you'll often find paid advertising listings towards the very top of the page too.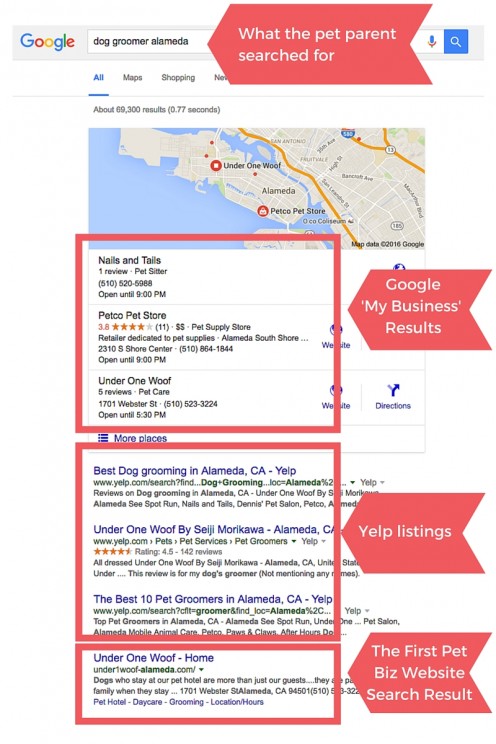 You may notice that your pet business's Facebook page, Yelp profile, or "Google My Business" listing scores higher than your website. Or perhaps you don't have any of those type of listings and your actual website couldn't be found either. And that's okay, at least for now (although at the end of this article, you'll know how to change this!).
For now, what you need to know is that your main local marketing goal should be to help your potential new clients find your business website, because that's where you have full control over how your business is presented.
PLUS your website is ultimately where most potential clients will turn to learn more about your services, whether they first found you on Yelp, Google's search or heard about you from a friend.
In the next step, I'll show you how to get your pet business listed among the "Google My Business" results at the top of the local search results. Be sure to subscribe and I'll email the article to your inbox.