In this penultimate part of the local marketing for Pet business series, I want to talk about the value of reviews, and why you should encourage your clients to leave as many reviews as possible for your pet business.
If you missed the beginning of this mini series, here's where you can find the first couple of steps:
Part1: How Pet Businesses Can Get more Clients Using local Search in 5 Easy Steps
part2: Discover Google's Best-Kept Secret for Local Pet Businesses
Part 3: How Spring-Cleaning Your Web Presence Can Get Your Pet Business Found!
But before you tell me you really don't want to deal with Yelp—hang on, there's a new review guy in town.
Well, perhaps not entirely new – but this one actually encourages you to ask your clients to review you AND your reviews will land you the prime top spot on Google Search!
Sounds pretty good, doesn't it?
Of course I'm talking about Google My Business. In the previous step, you learned about how to optimize your Google My Business page for your pet biz, and because you verified your business page, you will soon be able to respond to and manage reviews in your Google My Business Dashboard.
Let me show you why you have to get some Google reviews under your belt to be seen online.
Take a look at the Google Search image below, and tell me which local search result stands out the most to you (the local search results are those underneath the map).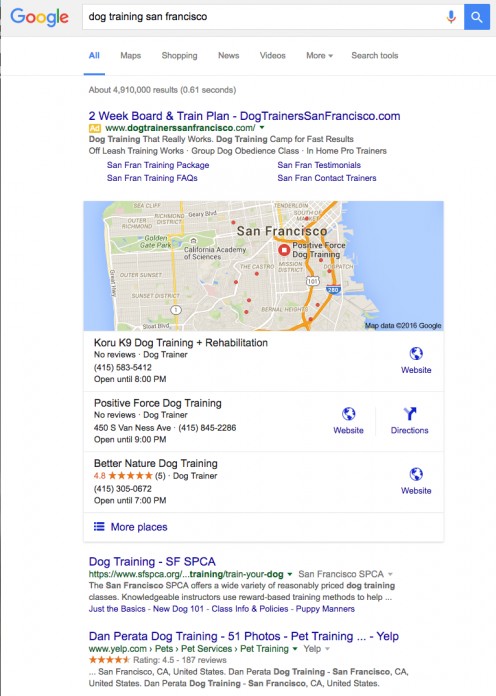 How do you get some pawsome 5 star reviews for your business?
It all starts with asking your clients for reviews. If you never ask – then the answer is always no, right?
After your Google My Business listing has been verified, start encouraging your clients to leave a review after successful grooms, or pet sitting sessions.
The key is to make asking for reviews routine. Perhaps add a signature to your outgoing emails, or print a business card with a blurb along these lines:
"We hope you're happy with your service here today, and if for any reason we didn't meet your expectations please reply to this email and let us know why so we can improve our service. If you loved your service please consider leaving us an honest review on Google Maps to help other pet parents find us."
Include a link to your Google Maps listing and explain that on mobile phones they'll need to use the Google Maps app to leave a review.
In the final part of this series I will cover how to SEO proof your website. Be sure to subscribe to my mailing list so you don't miss the final marketing piece of getting found online.