Welcome to part 2 of  the mini series 'How Pet Businesses Can Get More Clients with Local Search in Five Easy Steps.
In step 1 you learned that between 50-70% of all pet parents looking for a local pet service like yours use a search engine to find what they're looking for—and of course you want to show up when they're looking for you, right?
In this step I will let you in on Google's best kept secret for local businesses.
It's called "Google My Business."
Never heard of it?
Don't worry – just think of "Google My Business" as a combination master dashboard for Google Plus, Google Maps, Google Search and Google Places.
In other words: whenever anyone searches for your type of business anywhere on the Internet, they're likely to see your Google My Business listing in one shape or another.
Here's an example.
I used Google search to find a dog trainer in San Francisco, and Google swiftly presented me with the following search results: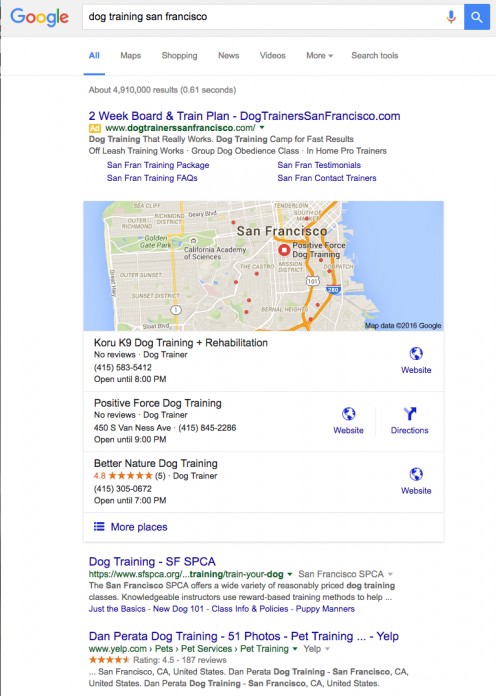 As you can see in the image above, the local search results from Google My Business are presented right at the top of the page, just underneath the "paid for" listing.
And of course we know that the higher on the page your business appears, the better chances of pet parents finding you!
And what's even better: it's super easy and FREE to get your business listed in Google My Business and start controlling how your the business appears in Google Maps and Search:
List your business hours, phone number, address and directions
Showcase your own photos.
List your website.
Stay on top of and respond to customer reviews.
You can list your business even if you don't have a brick and mortar location.
How to Build your Google My business Profile
Go to Google My Business and follow their instructions to either find your business (it might already be listed) or to add your business and then go ahead and claim your page. Claiming your page is super important, because your listing will not go live until you've done so. And also, claiming your page means getting a good old-fashioned postcard with a unique code in the mail. How fun!
Be sure to fill in ALL the information Google asks for accurately, no matter how irrelevant it might seem. Your detailed profile will help clients not only find you but help you stand out from your competitors (who most likely haven't taken the time to do any of this!).
Pay special attention to getting the business category, address, phone number, and web address right.
Upload 3-5 photos of you, your business, and your team, plus perhaps some photos of what you're really known for (whether that's show-poodle grooming or beach hikes with energetic pups!)
Write a thoughtful and welcoming introduction to your pet business.
In the next step, I'll show you how a little spring cleaning can help you get your pet business found online even faster! Be sure to subscribe to my email list and I'll send you the next blogpost straight to your inbox.